Linux Tip: (Bootsplash)
Submitted by

Rich

on April 30, 2012 - 7:57pm

This tip is something I have wanted to do for ages.

Has anyone ever wanted to change the bootsplash to something a little more personal. Personally I don't like the color green and the pale green bootsplash that openSUSE uses looks more like the poop from a sick baby. Well its supper easy to change. I had no idea how easy it was until I did it.
This tip applies to openSUSE but I am sure most distros will be similar.

Step 1
Go to /etc/bootsplash as root and run this command
cp -r ./themes ./themes_backup
This will create a backup of your bootsplash themes just in case you mess them up.

Step 2
Go in to /etc/bootsplash/themes/openSUSE/

This is where most of your work will be done. there are two directory's that we are interested in. ./config and ./images.

./config has all of the config files for the bootsplash.
./images has all of the images for silent and verbose background

Step 3
Run this command
Your output will have a line like this in it.

Bootsplash: openSUSE (1024x600)

Remember this it will be important later.

Step 3 or step 4 if your keeping count :-)
edit the config file and image files that go with your resolution.

Don't worry about making mistakes, it took me about 10 times to get it right. just make sure the images are the proper resolution and saved as jpeg.

Step 5
run this command
Note: use your own resolution not mine. This is where the command above comes in to play.

That's it, reboot and see if your new bootsplash woks. It probably will not work the first time but keep tweaking it and you can always start over with the backup you made earlier.

I changed my grub menu.lst and changed the splash to verbose and removed quiet from the end of the boot options so it will puke out all kinds of txt. It makes me feel more nerdy.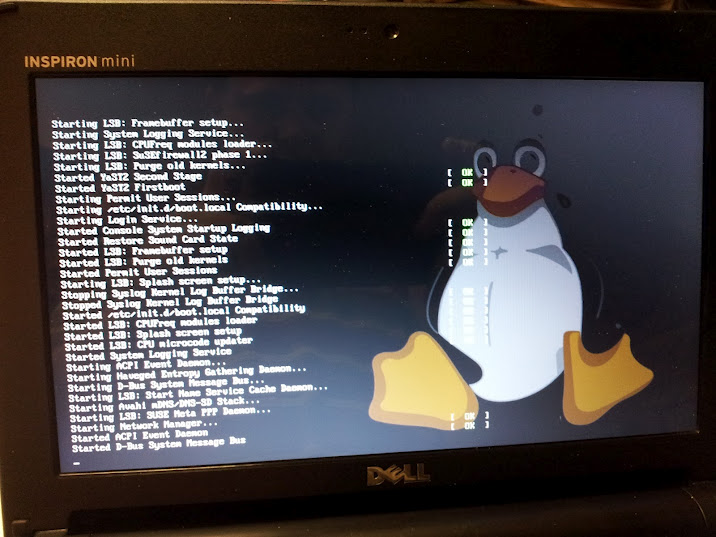 let me know what you guys do.
Add comment
Comments do not require an account. Anyone is welcome and encouraged to leave a comment.
However, If you are a spammer all comments require admin approval so your wasting your time and mine.
No one will ever see it. Please stop posting spam.